Widgets allow you to visualise data with much more freedom and flexibility. In this tutorial, you are going to learn how to create a widget from scratch.
Before you start
Created locations and zones on Cyclops (learn how)
Connected the cameras to Cyclops and online (learn how)
Configured AI engines for all the zones (learn how)
You are advised to go through the tutorial for these items first before creating any widgets.
Step 1: Click "+ Widget" at the top right corner
First, please click on the button at the top right corner to open up the widget builder, a place for you to create and edit widgets.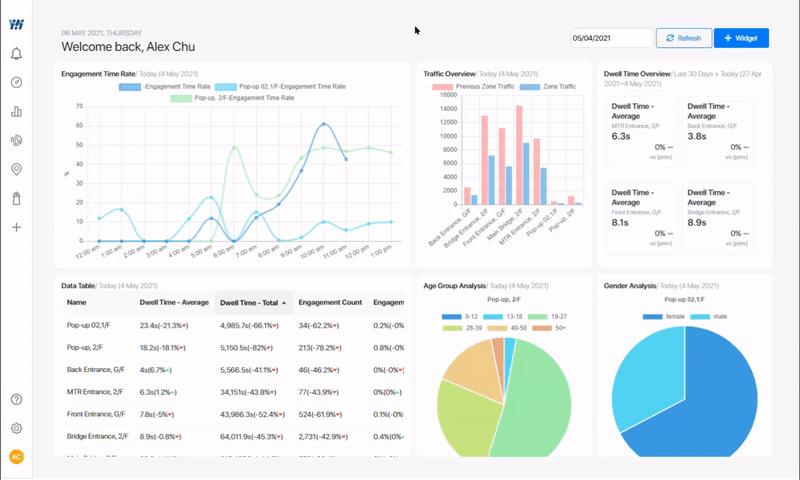 Step 2: Select Locations / Zones
After the widget builder is opened, on the right-hand side you will see a preview panel where your widget preview will show up here along the creation process while all the widget settings will be available on the left-hand side.
How you select the locations or zones here will determine the way the data is displayed in the widget. If you want zone-specific data visualisation, please select show data in zone instead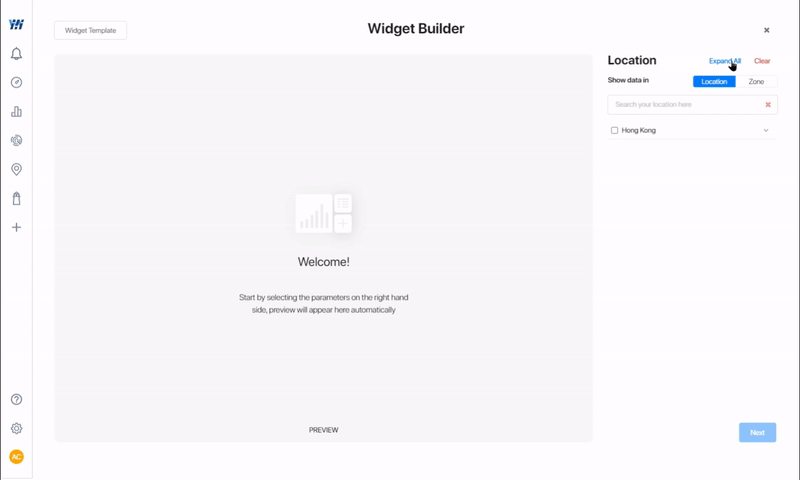 Step 3: Choose Widget Type
There are three widget types currently available for you to choose from: Figure, Chart & Table. Make sure you have filled in all the blanks before you go to the final steps. Here are some guides for the setting parameters.
Name


This is your widget name. Name it in a straightforward way so that you know what is this widget is about.
Time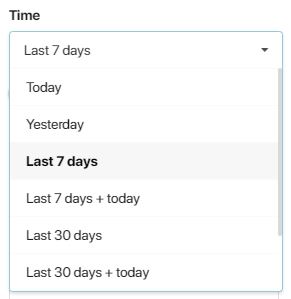 This defines how long the widget will query data from. Here is an example of how different options will look like.
| Time | Range of Date (assuming today is 1 May) |
| --- | --- |
| Today | 1 May |
| Yesterday | 30 April |
| Last 7 Days | 24 April – 30 April |
| Last 7 Days + Today | 24 April – 1 May |
| Last 30 Days | 1 April – 30 April |
| Last 30 Days + Today | 1 April – 1 May |
| Last 3 Months | February – April |
| Last 3 Months + MTD | February – May |

What is it?
Display a clear and simple number for your data. Available in general or custom mode.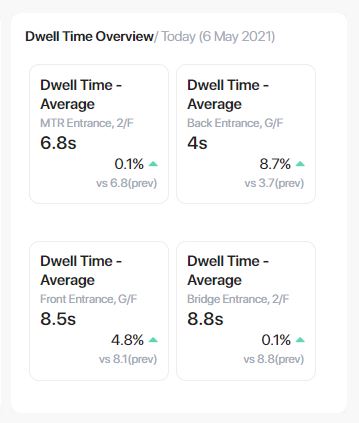 General Mode
The data you selected will apply to all of the locations/zones selected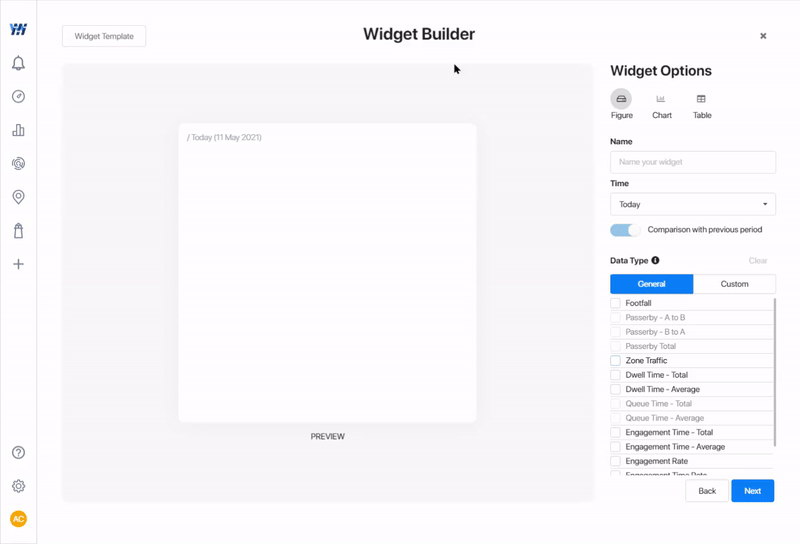 Custom Mode
You can choose data to display per location/zone, giving you the ultimate freedom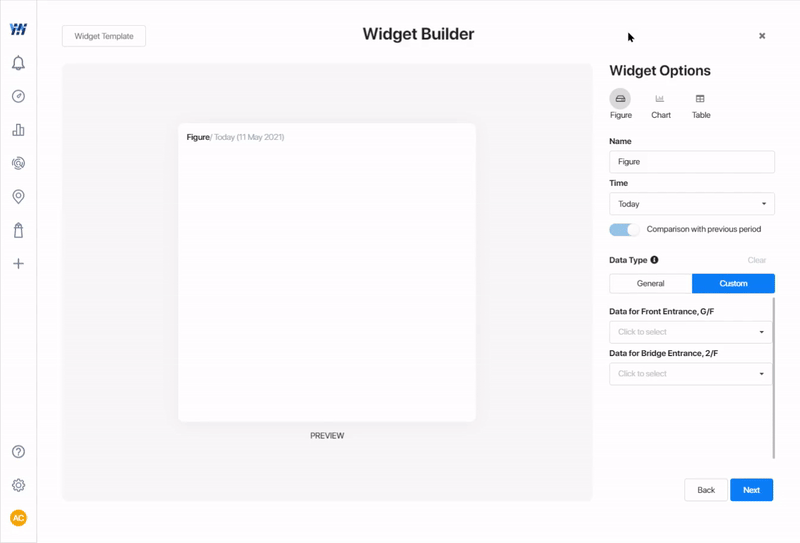 Sorting Order
All figure boxes will be display from left to right, top to bottom. Drag and drop the data to sort the order in the way you want.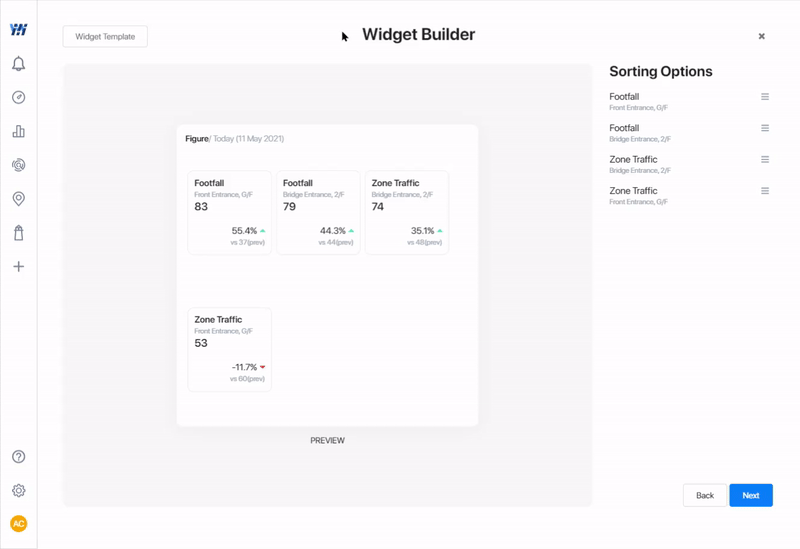 What is it?
Displaying data in charts to see insightful trends. You can even choose between time-series or location-based x-axis




Chart types
1. Bar Chart
2. Stacked Bar Chart
3. Area Chart
4. Stacked Area Chart
5. Line Chart
6. Pie Chart* (only available in category data)

Comparison
You can compare the data with the previous period data, click on the toggle to switch it off if you want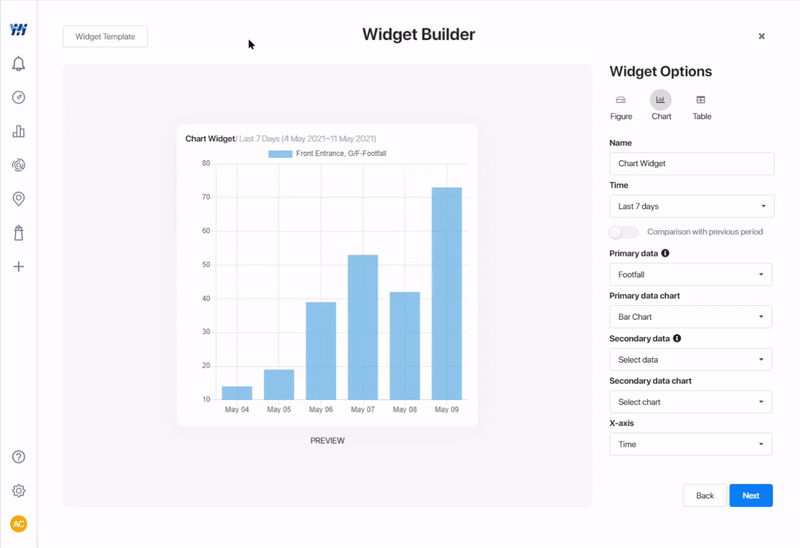 Time / Location X-axis
If you want to compare across multiple locations, show it by location rather than time might give you a better result




Secondary Data (Optional)
Want to see if there is a correlation between the two data types? You can add a secondary data with custom chart type if you want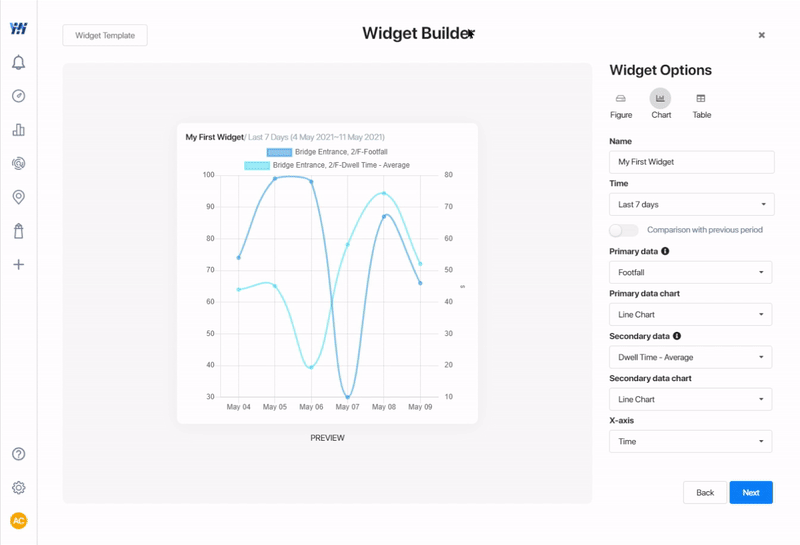 What is it?
Displaying data in a structured format. The sortable header makes it easier for you to compare the performance across a large amount of locations/zones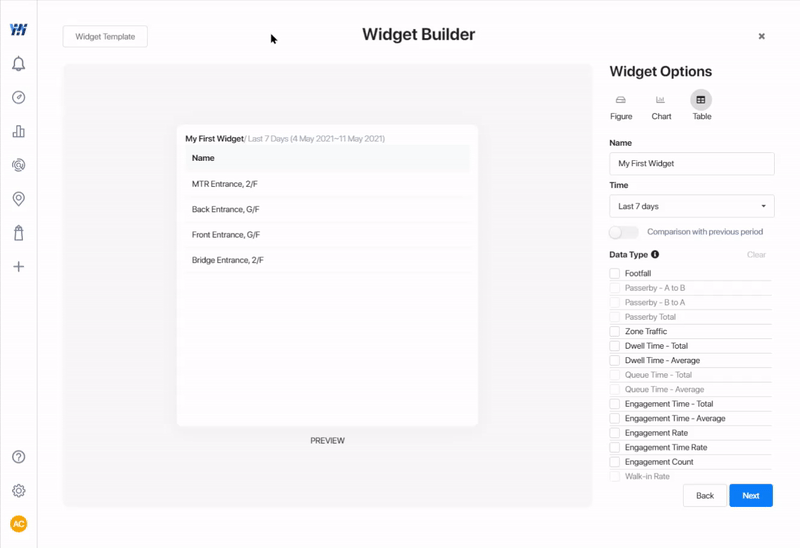 Sortable Header
Simply click on the header to sort name/values by that particular column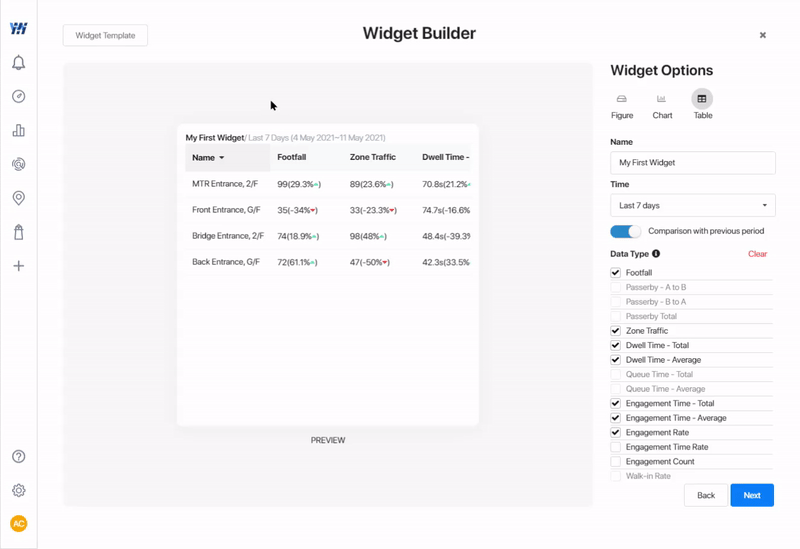 Step 4: Confirm your widget
This will be the last step before your widget is created. Please confirm all the widget settings and click "confirm" to create the widget.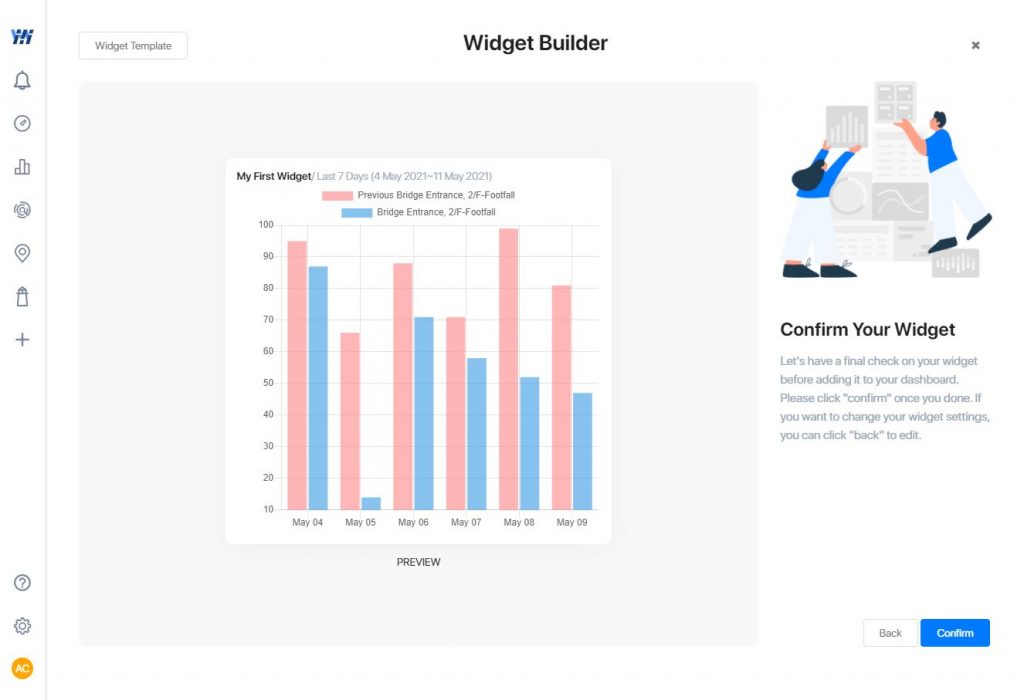 Basic tips for Widgets
Widget Reposition
Simply drag the widget to a new position and release it to confirm. A grey box will show the preview drop position.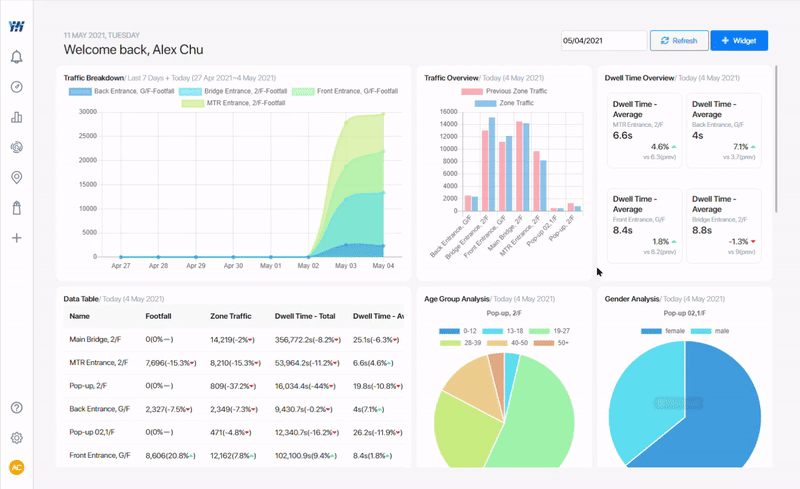 Widget Resizing
Hover on the widget and then a resize handle will show on the bottom right corner. Click and drag to resize the widget and release it to confirm.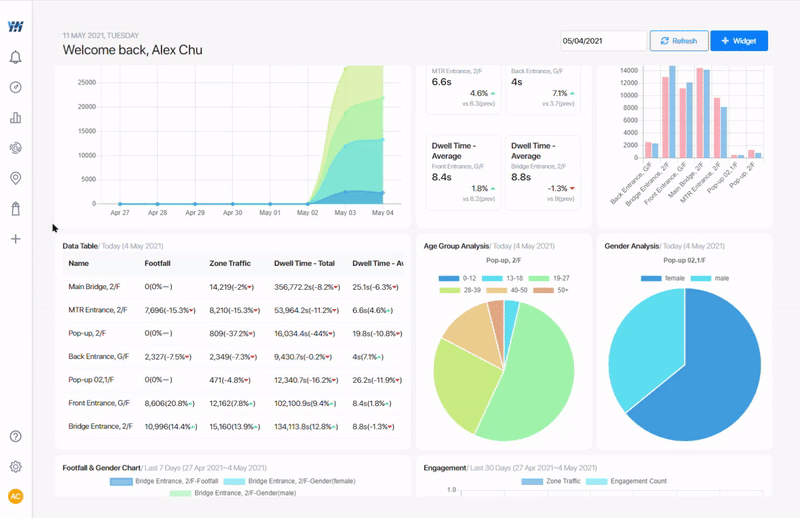 Widget Renaming
Hover on the widget and then a gear icon will show on the top right corner. Click on the icon and a menu will show. Choose "rename" and you can freely edit the widget name.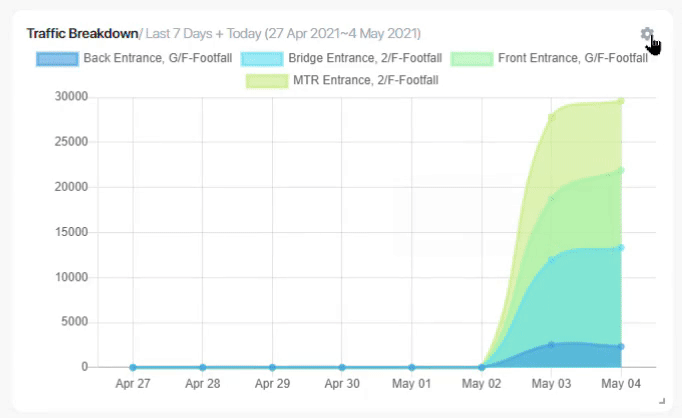 ---
No longer a beginner? We also prepared some practical tips for using chart widgets to make insightful data visualisation. See how we do it here.
Related Questions: