Data export in Cyclops has become even more convenient with the all-new page design and features. To go to the data export page, first you need to click the data export icon on the left-hand side navigation panel. (circled as below)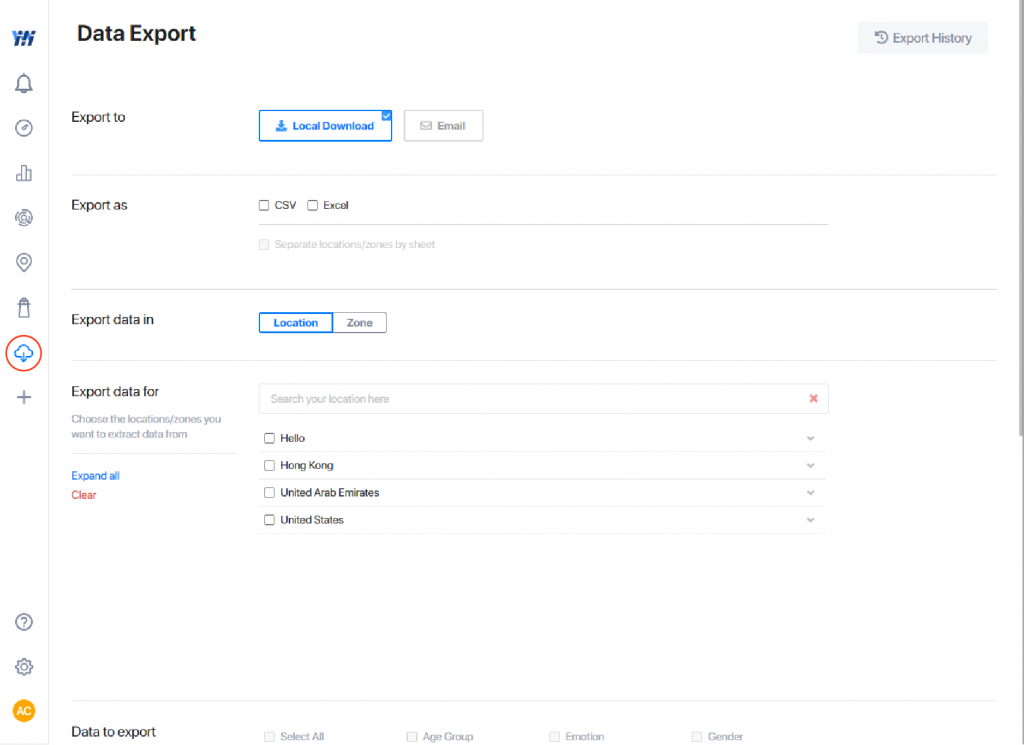 There are two ways to export data: Local Download & Email with their corresponding explanation as below:
Local Download: The exported files will be downloaded to your local computer
Email: The exported files will be sent to the recipient's email address
Here we will walk you through the export process with each method.
---
Method 1: Local Download

Please make sure you chose Local Download first before you make other changes underneath.
Choose export file type
Currently, we support two file types: CSV & Excel. For general data analytics purposes, export with an Excel file is preferred. You can choose both options if you want, the files will be exported in .zip format which you might need an Unzipping software like 7-Zip to open.

Choose between Location / Zone
As applied throughout any other component in Cyclops, data can be viewed in location OR zone level, the same rule applies here. You will need to choose between location OR zone, you can't export with both data.
Select the Location / Zone you want to export data
As seen in widget builder, you can select the location/zone you would like to export data from here. Simply click on the name to select, click again to de-select. Selecting the parent group will also select the location/zone underneath it.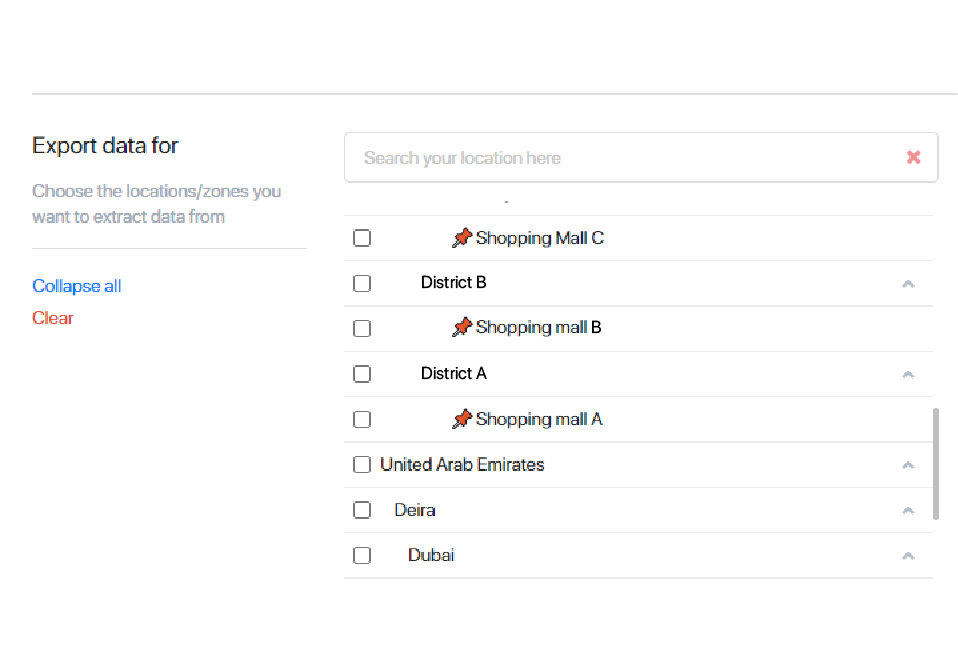 Select data type you want to export
Select the data types you need in the list below. Please be reminded that you can't choose the data type you haven't set up for the location/zone selected. If you are unsure about what AI engine you have set up so far, you can always go to the Locations page for more information. If you want to know more what do these data mean, you can take reference from this guide

Set your export period
Simply click on the From and To date field to define the export duration or you can make use of the shortcuts we built for you (Last 7 days/ Last 30 days/Last 90 days/This year/Last Year).

It is also worth noting that the export processing time is directly related to the amount of data you are exporting, so please be patient if you are export a large amount of data.
Submit your export request and wait
Everything should be set and ready to go, you can click Export to start exporting the data. The system will notify you if you miss something along the way.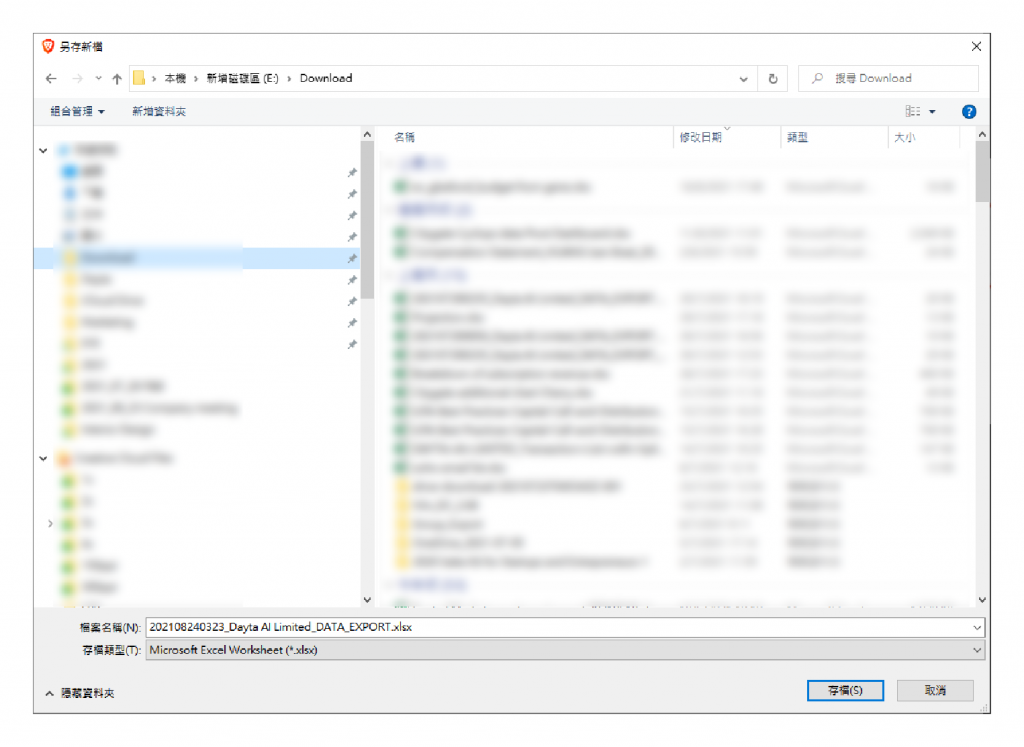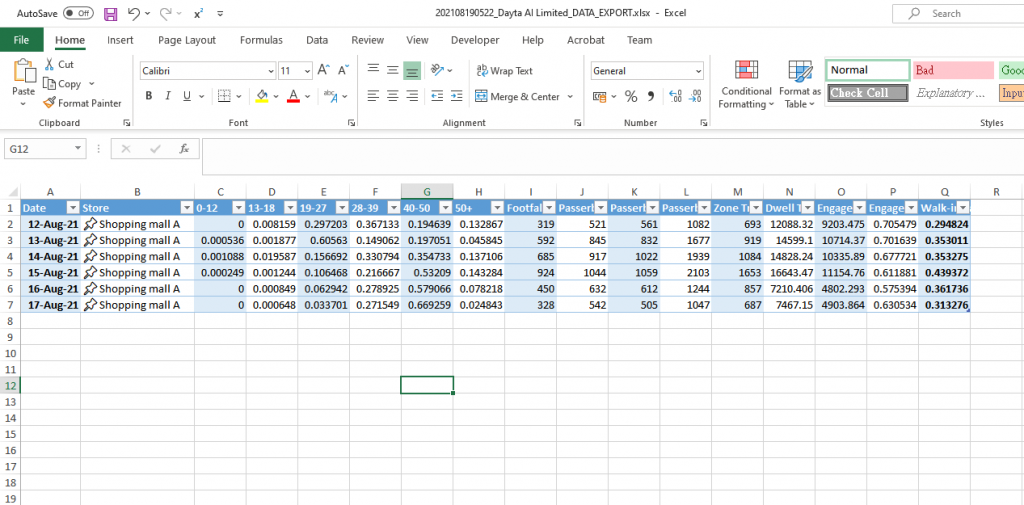 ---
Method 2: Email

Please make sure you chose Email before you make any changes underneath. While email has some extra fields to complete, the flow is pretty similar, so let's see what else you need to fill in.
Type the recipients' email addresses
You need to type the email address you would like to receive the export files in the Recipients field. Once you finish typing an address, please press Enter / Spacebar to enter the email address.


Customise your email (Optional)
To make your email more relevant to the recipients, sometimes you might want to leave them a message. Here you can change the email title and body the way you want.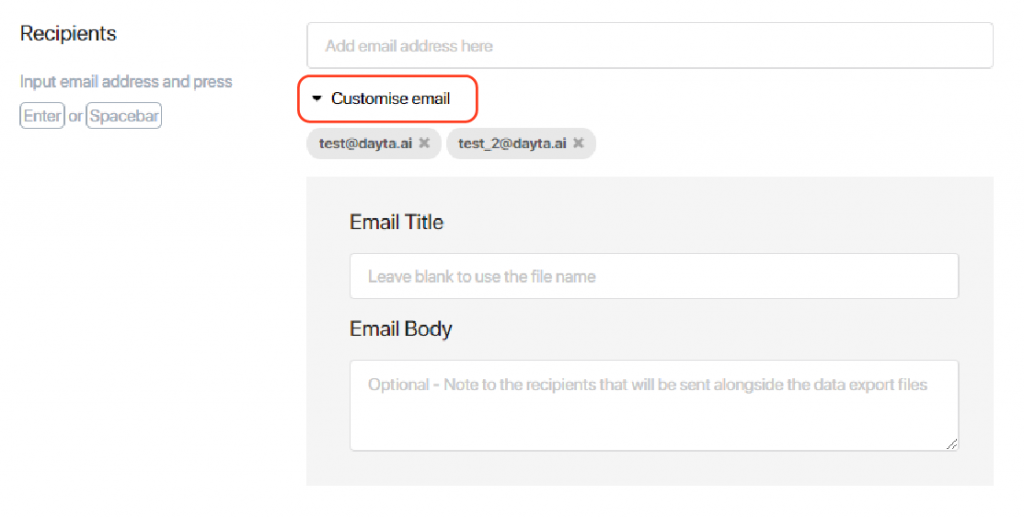 Fill in with your custom title and body.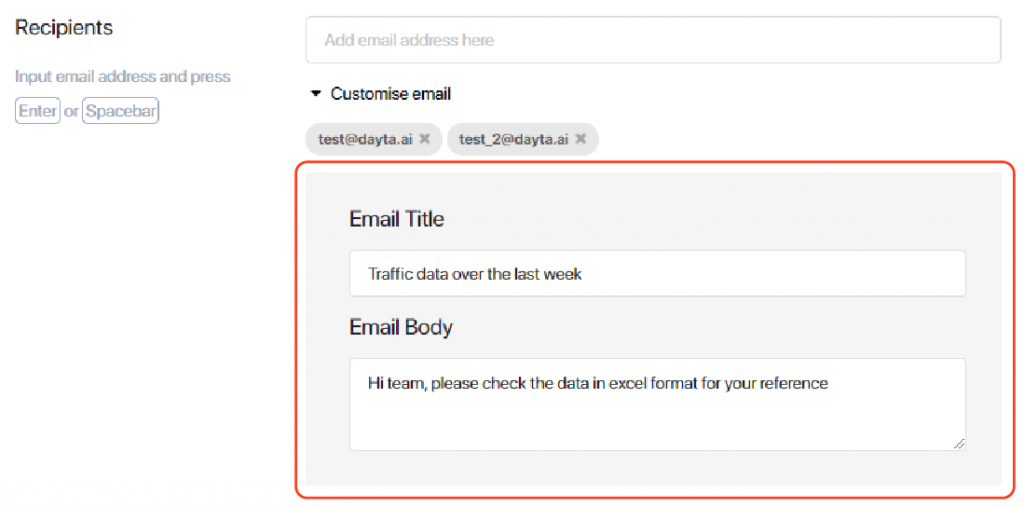 After that, you can continue to configure the export settings by choosing the export file type and everything else is the same from here onwards. Once you are done with it, you can click Export to start exporting data via email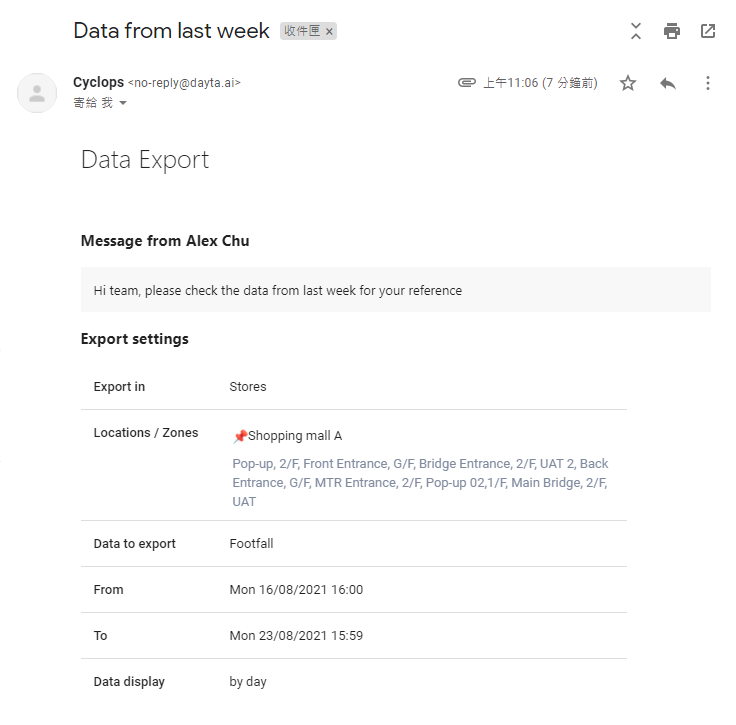 ---
If you encounter any difficulties in exporting your data, please do not hesitate to report the problem via email